Creative Community Design Build
WITH HOMEBOAT
Our engagment process is focused around the following core values:
Work toward equal access.
Collaborate with the spirit of a place.
Build hyperlocal.
Design for shared stewardship.
Move at the pace of trust.
Include all community voices.
In 2018, Homeboat members were selected as artists in Granite Falls, Minnesota for the Creative Community Design-Build project (CCDB), which was funded through a grant from Partnership Art, an initiative of the Southwest Minnesota Housing Partnership (SWMHP) and funded by ArtPlace America, with the goal to facilitate exploration and discovery of what a community-oriented building in Granite Falls can be.

These efforts utilized arts-based strategies, representing and engaging a diverse cultural sector of local residents, with the goal of revitalizing under-utilized downtown buildings and creating new processes for future SWMHP design-build efforts. We've called this project process Creative Community Design-Build (CCDB).

The desired community change with the CCDB Yes! House project is a new process for the SWMHP staff to engage with community partners and residents on future design-build projects, and to use Yes! House as a case study for creating an adaptable internal strategy for SWMHP to facilitate sustainable community-based design processes
with future projects.

Our collaborative practice understands that public art can be creative community engagement, intentional processes of listening and outreach, and development of hyperlocal initiatives that help people and their places work better together.


This process took form as many hours of research and interviews, public engagements around ideas, graphic imaging and social campaighs, collaborative renovation of the space, and a series of experimental winter programming events.
The findings from research and programming phases have been compiled into in-depth reports available upon request.
YES! HOUSE 1.0
Community Engagement
AS HOMEBOAT
GRANITE FALLS, MINNESOTA

During a six month research period, Homeboat interviewed community members and developed strategies for community engagement for an underutilized building in a downtown corridor of rural Minnesota.

Photos from on-site outreach in Granite Falls


Granite Falls is located on the Minnesota River in the southwest corner of the state. It is home to 2,734 residents. It is settled on Dakota land and now borders the Upper Sioux community.

Through the lens of our core values and those values of the community we are working within, we follow a process of research, on- site meetings and interviews, and creative community outreach that adapts and listens to what the community and the place tell us. Our framework of immersion, creative community engagement, analysis and synthesis, community ideation, and prototyping leads us to different solutions and methods for every community.

Interviews with community members, national research on strategies for community spaces, architectural and historical case studies, and a series of community engagements were used to develop a report for Yes! House in downtown Granite Falls, Minnesota. The report outlines opportunity, outreach, next steps, visual development and includes an appendix of related readings, research summaries, and insights for the local organizers and partners. Sample pages from the 70-page report are below.


Sample pages from the Yes! House report
SUNDAE SUNDAY
Community Engagement
AS HOMEBOAT
GRANITE FALLS, MINNESOTA

As part of the Creative Community Design-Build process, Homeboat hosted a community ice cream social followed by an afternoon of discussion and game-based idea generation at the Yes! House site in Granite Falls, Minnesota.

After spending time sitting in the sun building ice cream sundaes, residents and artists worked together drafting different strategies for re-activating the building as a community space, ideas ranged from women-led tool libraries to multi-lingual bingo nights. These ideas became part of the programming piloted during phase two of the CCDB process.


YES! HOUSE 2.0
Community Engagement
AS HOMEBOAT
GRANITE FALLS, MINNESOTA

During an intensive one-week construction phase, Homeboat artists renovated the front space of 726 Prentice Street to create a more vibrant, productive, and inclusive working space for the community.

Front door of the Yes! House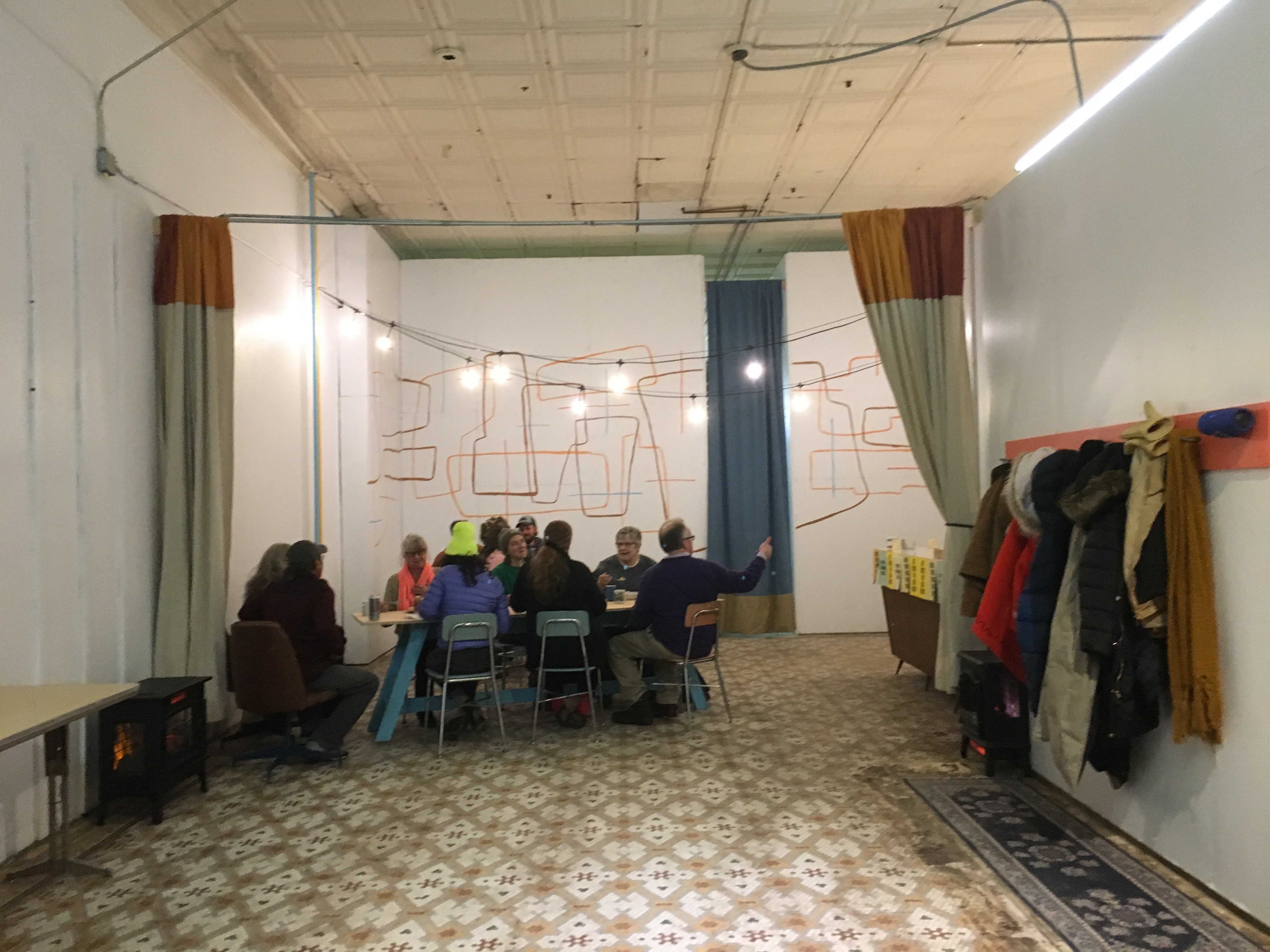 Before and after transition of the interior.



The renovation involved constructing dividers in order to activate the front of the building. We removed a drop ceiling infrastructure to reveal tin tiles above, reworked existing flourescents and added ambient overhead lighting, and revealed an elaborate penny-tile floor after days of removing tar from previous owners.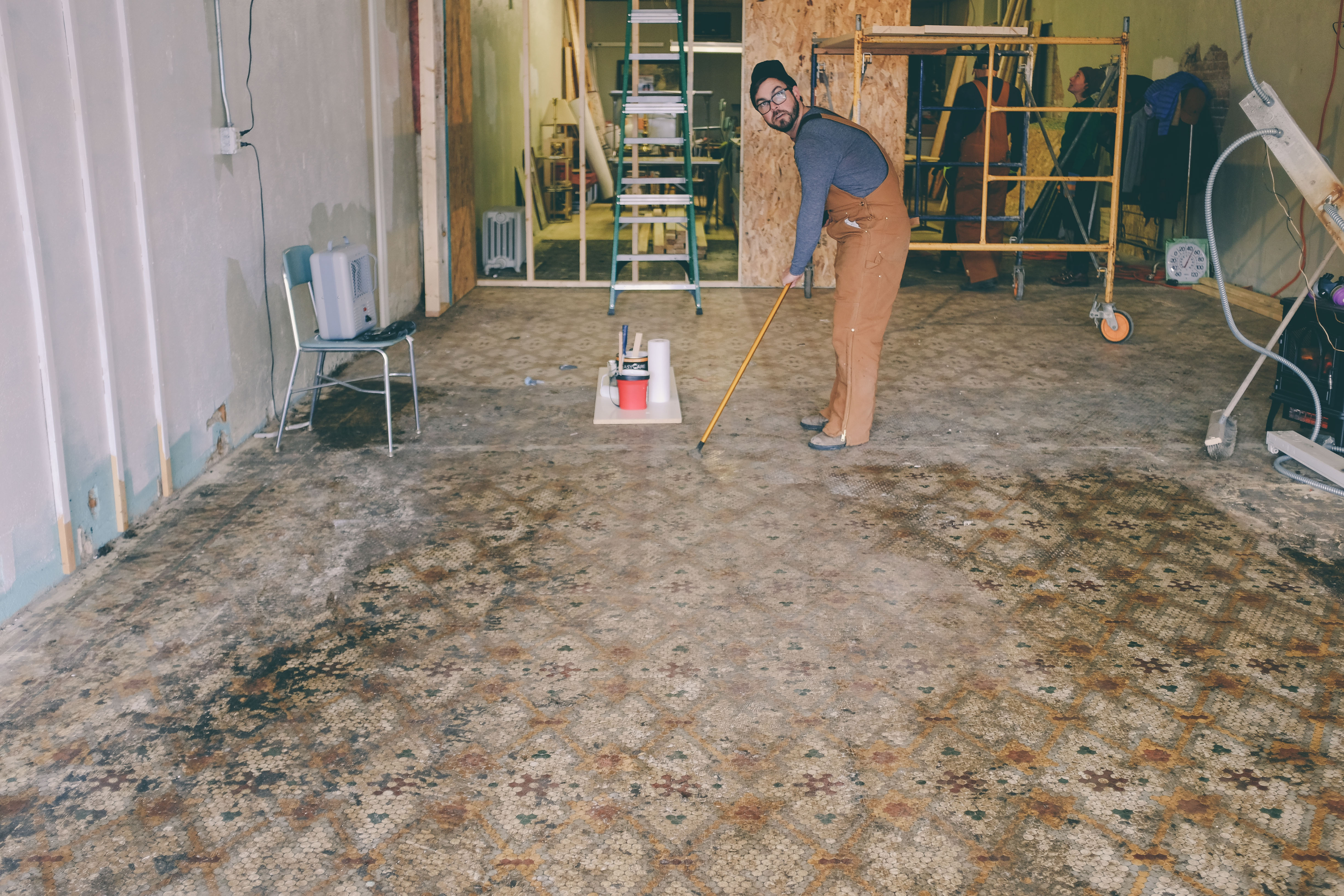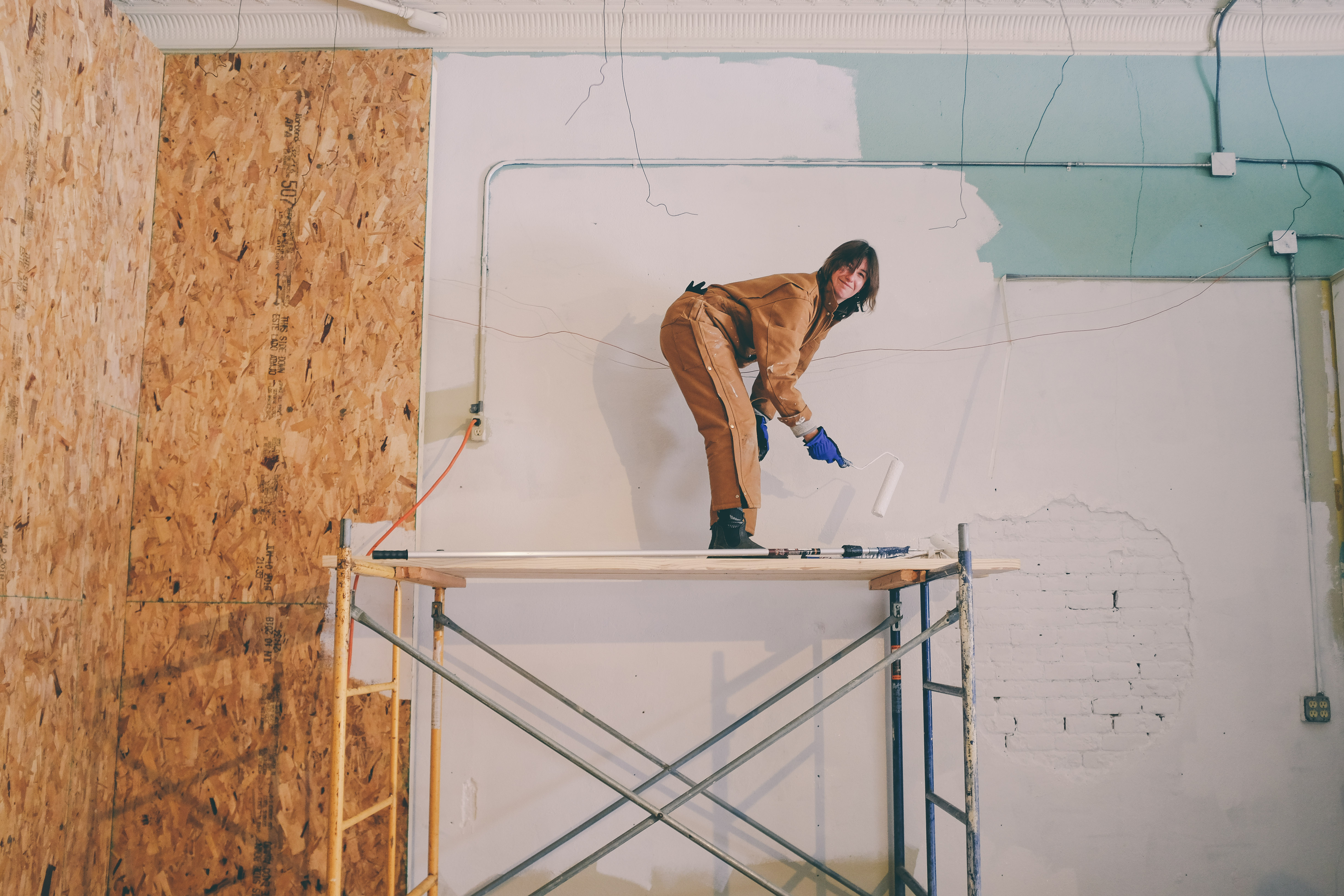 Renovation process


Beyond construction, we also designed a spacial color palette and repainted the interiors, adding a pattern mural inspired by the granite rock formations in the region. Artists built mobile lightweight furniture for the space, created a point-of-sale system for donations, a community bulletin board, and implemented flexible and strategic mapping of areas in order to function as an informal social space, a multi-purpose venue, and a classroom.


Finished interior of Yes! House
WINTER WARMING HOUSE
Community Engagement
AS HOMEBOAT
GRANITE FALLS, MINNESOTA

An collaboratively built all-are-welcome rural downtown warming house programmed as an experimental proof-of-concept for community strategies outlined by neighbors during a creative community design-build process.

Readerboard and window dressing on opening night of the warming house.



Situated in an unheated building in the long nights of winter in rural Minnesota, the downtown Winter Warming House served as a lights-on, open-door experimental community space in downtown Granite Falls. During the days of programming, Homeboat piloted a series of events including a casserole potluck, bingo night, quick pickling class, movie screening, wood workshops, game days, brunch club, drop-in social hours, and of course, piping hot coffee every morning. Programming the space involved everyday changing window installations, a homemade readerboard, social media takeover, identity design, and upfitted adjustments to the space depending on event needs.